John Okafor is more commonly known as Mr Ibu after an extremely popular role he played, though he had already adopted the name from his grandfather whom he says was his mentor and inspiration for doing comedy. John Okafor is undoubtedly one of the funniest men in Nigeria although his life hasn't just been a barrel of laughs.
Who is John Okafor (Mr Ibu)?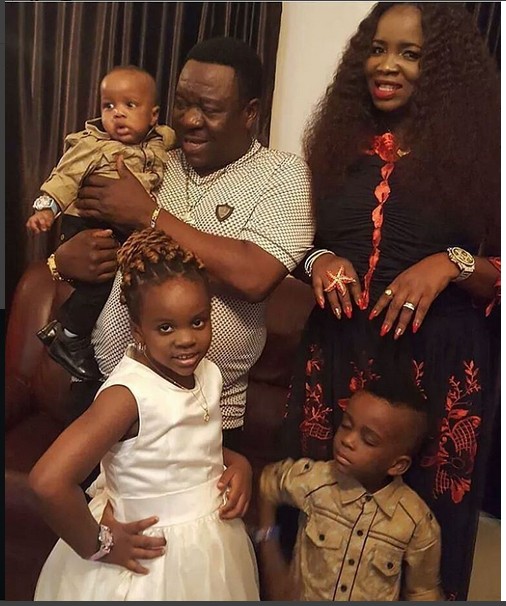 John Okafor is a Nigerian comic actor, writer, producer, and filmmaker, popularly known as Mr Ibu. He is considered one of the funniest and highly paid comic actors in Nigeria.
John Okafor's full name is John Ikechukwu Okafor. He was born on October 17, 1961, in Umunekwu village in Eziokwe, Nkanu West Local Government Area of Enugu State. The 59-year-old actor is a graduate of Mass Communication from the Institute of Management and Technology in Enugu State.
Mr Ibu as he is fondly called joined the movie industry in 1978 working behind the camera as a continuity crew member. His debut movie was 'Rolling Stone' and he came into the limelight in 2004 after starring in the comedy blockbuster, 'Mr Ibu'.
The actor has featured in over 300 movies, some of which were produced by him. Some of the movies he has produced and featured in include Agony (1998), Vuga (2000), Mr Ibu (2004), 9 wives (2005), Chelsea/Liverpool (2006), Basket Mouth (2007), Yahoozee Prophets (2009), Honeymoon Guys (2015), and many others.
John Okafor (Mr Ibu)'s relationship and marriage
John Okafor (Mr Ibu) has been married twice. He married his first wife in 1998, but things turned sour between them and they went their separate ways.
The comic actor revealed that his first marriage was an ugly experience and he had to stay away from women for six years after the marriage crashed. He, however, did not share exact details of his ordeal in the marriage with the public.
Mr Ibu's second wife
Mr Ibu is currently married to Stella Maris Chinyere Okafor whom he refers to as 'Chibest' or 'First Class'. Mr Ibu and his second wife got married in a traditional ceremony on May 25, 2010. They had their white wedding five years after the traditional event, in 2015.
The comic actor considers his new wife as compensation from God after the terrible experience he had had with his first wife.
John Okafor took to the media in May 2021 to celebrate 11 years of being married to his second wife, releasing different family pictures on his Instagram page.
How John Okafor (Mr Ibu) met his current wife
John Okafor revealed that he met his new wife in a very sad situation. The actor revealed that he met her crying over a supposed break-up text message she had received from her boyfriend of that time.
According to him, he tried consoling her and they later met coincidentally again at Port-Harcourt. He revealed that they started their love affair from there and he later proposed to her in a hilarious and dramatic manner which took her by surprise.
About John Okafor (Mr Ibu)'s first wife
There is little to no information about John Okafor (Mr Ibu)'s first wife. However, the actor made it known that she is also from his hometown in Enugu.
He also revealed that he married her under the influence of his mother and sisters who insisted he married a woman from his hometown. John Okafor made it known that the woman turned out not to be the right choice for him and they had to go their separate ways based on incompatibility.
The actor cum producer even alleged that his estranged wife was responsible for the kidnap of his new wife and late son sometime in 2011.
John Okafor (Mr Ibu)'s family kidnap saga
John Okafor's wife and one-year-old son were kidnapped on January 4, 2011. According to the actor during an interview, he revealed that it was all his family members that were kidnapped at first.
He said the remaining members were released after the kidnappers realized that the Police Force was on their trail, though they held on to his wife and one-year-old son.
The actor revealed that the kidnappers released his wife and son after ten days, after a ransom of N4 million naira was paid.
Mr Ibu said the kidnappers at first demanded a ransom of N50 million naira but reduced it to the sum of N6 million naira after four days of incessant pleas and haggles. He ended up paying the sum of N4 million naira after much negotiation.
John Okafor revealed that it was during his discussion with the kidnappers that he got the scoop that his estranged wife was the brain behind the kidnap. Unfortunately, the actor's kidnapped son died a year after the incident and it was later discovered after his death that he died of food poisoning.
About John Okafor (Mr Ibu)'s new wife, Stella Maris Chinyere Okafor
Stella Maris Chinyere Okafor is the new legally wedded wife of actor John Okafor a.k.a Mr Ibu. She is a proud mother of four children, one of which is late.
The mother of four is said to be an actress and a model from Mbaise in Imo State. Her husband refers to her as 'Chibest' or 'First Class'.
Stella Maris is also speculated to be a great cook based on her husband's description of her cooking skills. He made it known that she came up with a recipe known as 'Ibu stew' on her own.
According to him, the recipe is now enjoying patronage in Enugu, Awka, Lagos, and other parts of Nigeria. More detailed information about Stella's background and educational qualifications is currently unavailable.
John Okafor (Mr Ibu)'s children
According to reports, John Okafor has a total of thirteen children, one of which is late. The actor had revealed that he had had some of the children before he got married to Stella, his new wife.
Mr Ibu and his current wife, Stella Maris Chinyere Okafor, have four children together, one of which is late, thereby making her children three, a girl and two boys. The children are named Chelsea Okafor, Emmanuel Mandela Okafor, and JayJay Okafor respectively.
Mr Ibu's first daughter, Chelsea Okafor is said to share a striking resemblance with him, while his second son, Emmanuel Mandela Okafor was named after his first son who died in 2012.
However, the actor is also said to have a grown-up son who is married with two children. He also has other children from his previous relationships.
Mr Ibu 10 Things you Probably don't know about him
A few things you may not be aware of about Mr Ibu include:
1. His debut movie was titled Rolling Stone, which earned him a mere N5,000 which is a far cry from the six-figure sums he rakes in today with his movies.
2. His father and five other members of his family were killed in the same year, 1976, poisoned by someone who was revealed by the actor's father posthumously. This same tragedy seemed to have followed him later in life.
3. His ex-wife kidnapped his wife and son according to John Okafor and released them after 10 days once the actor paid the ransom. Unfortunately, his son died a year later in circumstances that were less than straightforward and it later discovered that he was poisoned.
4. The 52-year-old went to school during the Biafra war. In fact, the announcement of war on the 15th January 1966 came only a week after he started school. He, however, saw it as fun the running to the bush, eating lizards, crocodile and even oke, meaning rat and the camaraderie that it presented.
5. The seasoned actor surprisingly does not know how to cook. During the Biafra era, one of his brothers would cook the lizards that they frequently ate and of course now he does not really need to learn that particular skill.
6. Other skills that he does have however include hairdressing and styling. This was one of the odd jobs that he did to get by in his youth and he apparently got so good at it that his customers became so reliant on him that they would wait if they did not find him present at the salon. He even owned a hotel called Ecowas, which he ran before his initial movies became best sellers.
7. John Okafor has mentored many upcoming actors in the industry and has been responsible for the success of some of the big names in Nollywood today. He mentored Jim Iyke who came up to him on the scene of Vuga and showed interest in the industry. He walked him through and put him in eleven scenes of the production and today, Jim Iyke is a household name. Georgina Onuoha was also discovered on the set of Woman, a movie he was working on and she still pays homage to him.
8. After his extensive stint in the film industry, he has not only earned experience but wealth as well. He appears on the list of the 10 wealthiest actors in the Nollywood film industry. His attitude and his interpretation of roles have created a massive demand for the actor such that he has gone beyond the borders to work in international scenes like the Ibu Runs Mad in America which is a Hollywood and Nollywood joint project.
9. The funny actor is also a singer and his CD's are in the market. They are titled: This Girl 1 & 2. He likes playing draughts with his friends and watching football although this almost got him into trouble as a game he had gone to watch had to be stopped when the crowd, as well as the referee, left the game to run after him and he had to take to his heels to avoid being trampled by the fans.
10. The comical antics of the humorous actor have also gone from the movie scenes into some of the music videos he has featured in. He made an appearance on Flavour's song, Ada Ada where his dancing antics moved his 'wife' to pull him off the dance floor.