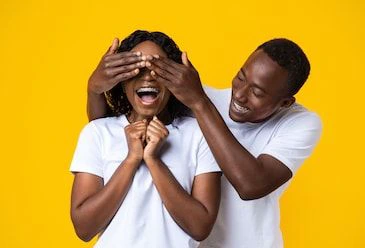 In the previous article, I talked about how to keep your man in a relationship. kindly note that keeping a man in relationship is one thing, knowing if he truly loves you is another.
In today's piece, you will get to know some of the qualities or behavior men exhibit if truly he is in love with a lady.
7 Qualities of Men who loves a Lady
1. Follow-up /Communication: one of the things that keeps relationship going is communication.
He calls or texts you frequently just to hear from you, even if he doesn't really have anything serious to say. He cares so much about you.
2. Surprise: he tries as much as he can to surprise you, may be with a gift or taking you out for a tour or refreshments.
He may not really shower you with gifts but will always make you lively and happy with the little he has.
3. Closeness: a loving and caring man will always try to bring his girl close to his family or friends by making you get familiar with them. He will also try getting into things that you like and dislike what you hate.
4. Time Spending: whatever happens, a loving man will always be by your side.
He will be proud of you and always spend quality time with you without unnecessary excuses. He will also seek advice from you for his well-being.
5. Protection: real men protect their female lovers. For instance, he will always advice or defend you in any where you are stuck in.
6. Future planning: He doesn't only care about but talk about the future with you. For instance, he might share with you how he intends to spend his future or life time with you.
Note: it's not everything he might want to discuss loud about his future in case you don't hear him talk about it frequently.
7. Sacrifice: No matter what, a loving man will always sacrifice for his woman in one way or the other just to make her happy. Any time you, call him, he will always be there for you.
In the next articles, I will discuss why men cheat in a relationship
Let's know your take on this, you can as well add more qualities of a loving man by typing in the comment box. Thanks!