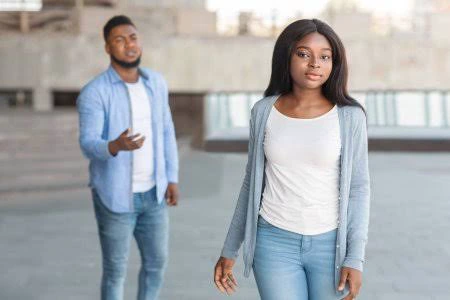 One of the most difficult things in the world for most guys is approaching a lady they just met on the road. This particular activity is easy for some guys that know the main tricks to being successful at it, while it's more difficult than promotional exams for some.
If you are a guy and you are currently reading this article, then I suggest you relax and ensure you read every bit of it. It's going to help guys that find it difficult to talk to girls on the road as it contains some secrets tips they must know.
Checkout the Four (4) Things You Should Do If You Find It Difficult to Talk to A Girl on the Road;
1. Be Calm and Apologetic in your Approach: it is important to note that girls are wonderful beings and as such, to be successful at making them fall for you at first meeting or even be convinced that you're the right guy, you need to be calm. Don't just badge into her surprisingly or suddenly hold any part of her body as that is the highest turn off. You need to use the magical word "Please". Using the word will make her see you as a gentle man and a reasonable person worth being listened to.
2. Be Cheerful: the next thing you must do after using the magic word to attract her attention is to smile a bit. You don't have to laugh, I mean smile and at the same time showcase your neat teeth to her, and then introduce yourself while still putting on a cheerful face. That way, she will certainly be hooked to whatever you're saying the more.
3. Call Her Pretty, or Beautiful: this is another thing you should do. Doing this boosts your morale and will also further melt her heart for you to harvest. Calling her pretty doesn't mean you should go and start flattering her, that way she will see you as a rogue who's after her body and nothing else. The only time you should compliment her is when you're done with introducing yourself, then you can be like "Ok Pretty, what's your own name?" She will be certainly forced to answer and may even smile if she is interested.
4. Give Some Space: Another thing you should take note of is the importance of giving her some space. It is wrong to walk up to a girl you didn't know or met any other place before and come very close to her face. That will not only scare her but also make her think you're a criminal or rapist, you need to give her some space to breathe while you make your intentions known to her.
That's all for now lovely readers! Follow the handle for more updates and also share this article to your friends for more. Thanks.